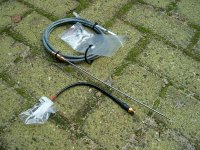 Temperature sensors.
The top one is used with the ATP device. There are three sensors mounted, one before intercooler, one after intercooler and one in the flange of the nr.3 exit in the exhaust manifold.
The little sensor with the black wire is used with the Autronic, and this one is mounted in the plenum.