| Home | Celi meets: | 

---
Celi meets EVO 5: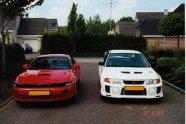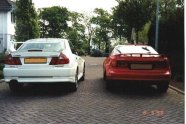 At my pleasure I had the ability to drive this white "rocket".
I can assure you, this is the fastest and nicest car with the biggest fun rate available.
When I am grown up, I want such a race car.
Stock: 280 hp. and 380 NM. torque.
Short low gears, top: 4th = ± 160 km/h., and 5th = ± 250km/h.
Just point your nose in any direction and the car follows... amazing!!


---
Celi meets Subaru Impreza Turbo: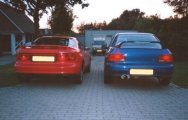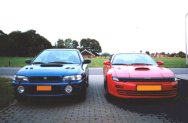 Again, very nice flying with this car. Great handling and this one had an beautiful noise with an Scooby exhaust and K&N FIPK. This car is more nervous as my GT4. And with four doors, very handy with children for example..like who again......:-)


---
Celi meets Toyota Celica Turbo heavy tuned: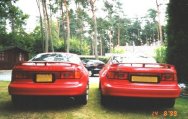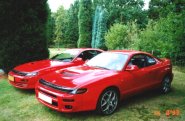 This used to be an "normal" ST 185 air cooled intercooler, but now it is heavy tuned.
Modifications are:
Supersprint exhaust, no cats, Group A exhaust manifold,watercooled intercooler, Motec ECU in stead of stock Toyota ECU, ERL water injection, high flow Bosch fuel pump, 700 cc injectors, HKS Blow Off Valve, free flow air filter, hybrid turbo, koni's and lowered, brake upgrade and more....
This car is pushing 300 hp., but this should be more, even tough very fast car, a must have too, cool..... :-)))))))


---
Celi meets Honda Prelude Vtec: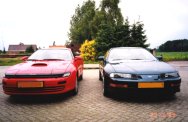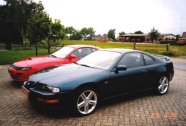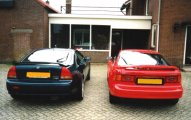 Personely one of the nicest coupe's available. Very nice is the wild cams jumping on hot at about 5,200 Rpm.
Sounds really quick, this car.

---
Celi meets Volvo 850 T5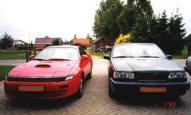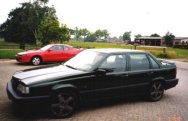 Amazing how fast such an big, ugly and heavy car can be. With 5 cylinders and turbo pushing about 225 hp.
Very nice sound those 5 cilinders, and again 4 doors, always usefull (grint :-))). Cops are using this cars often in Holland :-(.


---

Celi meets .......nothing, because the Celi is down due to an clutch replacement and an synchro rebuild, we are moving in an Subaru GT Turbo. With this car I visited my "teacher" with his turbo powered BMW:




More about this BMW, look here, very nice, take a look: BMW M TURBO
What to say off: more than 400 rw hp and more than 480 Nm torque (350 Lbs).......





| Home | Celi meets: |