| Intake | Home |



Just because I want most things ready before I crank up the boost, I installed an FIPK from K&N. I noticed a little difference in throttle response and accelerating.
If you love nice sounds, this mod is an "must do". Under accelerating you can hear the air get sucked into the engine, shifting gears gives some kind of blow off noise. The "blow off" noise is coming from the boost pulse whats is coming back, via the airfilter, at the moment the throttle is closed under boost. This is really bad, I do need an Blow Off soon, what will take care of the high boost pulse, and will raise the life of my turbo.

Some time ago, an Toyota Supra twin turbo what produced 368 rear wheel hp., changed his stock air filter box into an free flow air filter.
Result was an power gain of: 16 hp.
This means, the power gain was 4.35 %. And if we look from stock, it will be ± 6 %.
Not bad for just changing into an free flow air filter.

Next mod was an custom made air filter box, avoiding hot air being sucked into the engine, very important.
Underhood temps are going up to 60 degrees °C., and higher. My intake temps now are ± 5 - 10 degrees °C. higher as ambient.
Some strange thing I noticed is, my intake temps are ± 15 - 20 degrees °C. higher with the headlights up???

10-12-2001:
Before I blew up the engine, I had an K&N FIPK with heat shield, custom mounted on to the AFM. But since the major rebuild, including an Autronic programmable engine management, the AFM is not needed. This means that I have the possebility to mount an other and bigger air filter. Second is that I am not sure what to do with the route to take.

An other way of modifying the intake is, making some holes in the stock air box, allowing some extra air. Drop in an K&N element and ready.
The stock setup, with the "snorkel" sucking air from behind the headlights is not big enough for flowing big amounts of air into the turbo, this is a fact!!

Anyway here are some pics of how it was:
---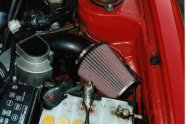 K&N air filter, with home made AFM adapter.

---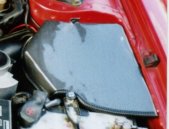 Air filter with home made heat shield.


---

09-05-2002

This is not actual anymore. At the moment I installed an Green airfilter, and removed the AFM. There is no cold airbox there, due to time problems. Pics coming up as soon as I find the time.